The Home Envelope—Components of Your Home
Every area of your home works together with another. We analyze the entire home as a system to provide the best results.
The exterior of your home is referred to as the "envelope," which protects you from the elements. Your envelope regulates how air moves in and out of the home, repels moisture and pests, and prevents conditioned air from escaping to the outside. Issues with your building envelope can have a big impact on your utility bills, comfort, and health.
Greenlink's 360° diagnostics approach examines the critical relationships between your systems and develops a customized proposal for solutions to maximize your health, comfort, and energy efficiency.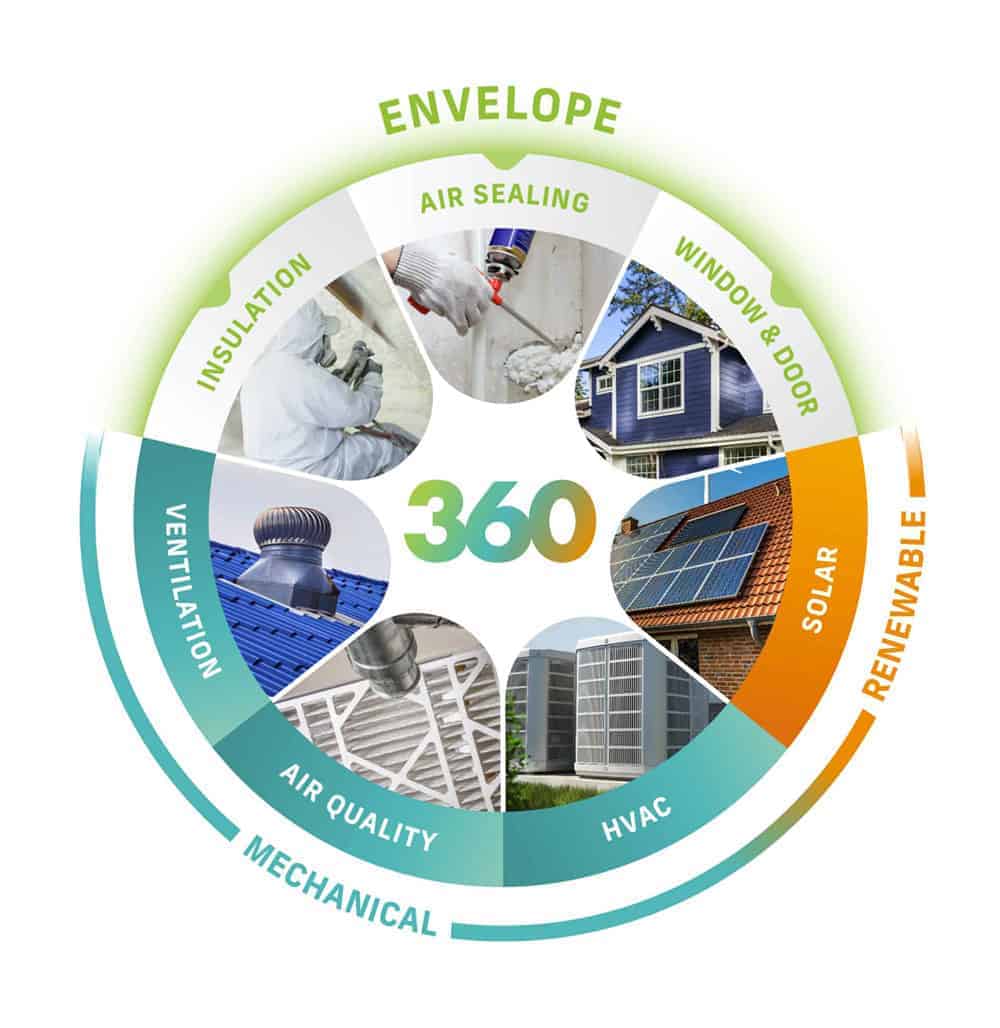 Our Diagnostic Process

Makes all the Difference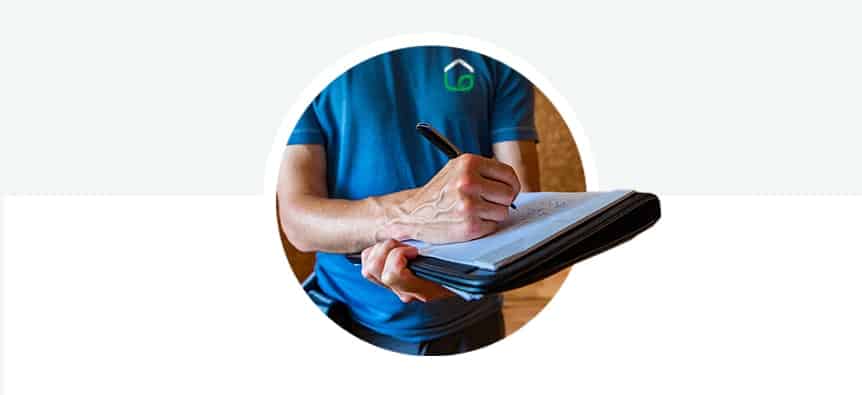 1. Consultation and Addressing Concerns & Priorities
Our trained assessors will visit your home, address your concerns, and help you prioritize energy efficient improvements. Sometimes energy problems are obvious — you know if your furnace doesn't work or your attic doesn't have any insulation. However, it can be much more challenging to know how to fix that one room that won't cool down or how to reduce rising heating bills.
2. Complete 6-Point Visual Inspection

The assessor will conduct a thorough 6-point visual inspection of the key areas and sources of vulnerabilities within your home's building envelope. They'll use thermal imaging, moisture testing, identify air leaks and infiltration, test your air quality, and notate any aspect of the home that may be contributing to an issue or may need attention.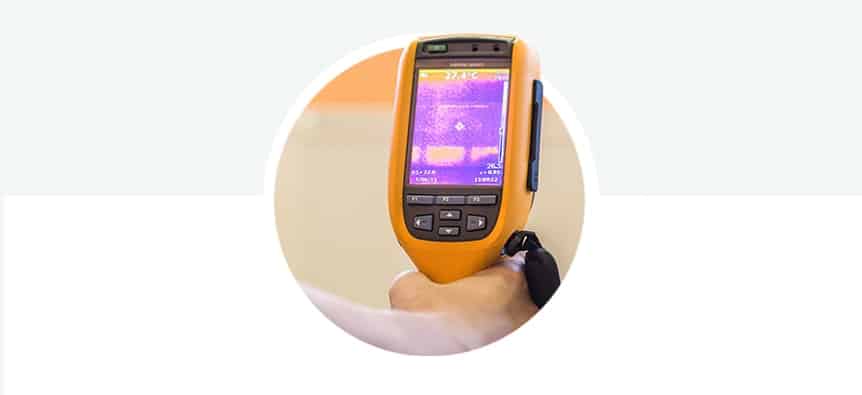 3. Collaboration and Analysis
Upon completion of the assessment, the assessor will collaborate with the Greenlink Envelope team to create a unique proposal tailored to your home that will address your needs. Every home and building is unique and, at Greenlink, is treated as such. You will receive a detailed report listing all notes and observations along with information regarding any problems discovered during the assessment. Our goal is to have you understand exactly what your home needs, why, and how to accomplish it.
Did you know up to 90% of homes lack sufficient attic insulation according to the U.S. Department of Energy? Heat and conditioned air pass easily pass through a poorly insulated attic. Conductive heat loss through the cold ceiling makes rooms directly beneath the attic even colder. Our trained auditors understand how to address any and all problems in the attic space.

Symptoms of an Under Insulated Attic and Home
N  Cold drafts throughout the home, especially during the winter months.
N  Rooms and spaces below the attic become too hot or too cold even though other rooms may be just fine.
N  Your furnace or air conditioner are constantly running to keep up
N  High utility bills during harsher seasons such as sub-zero winter months and boiling hot summer months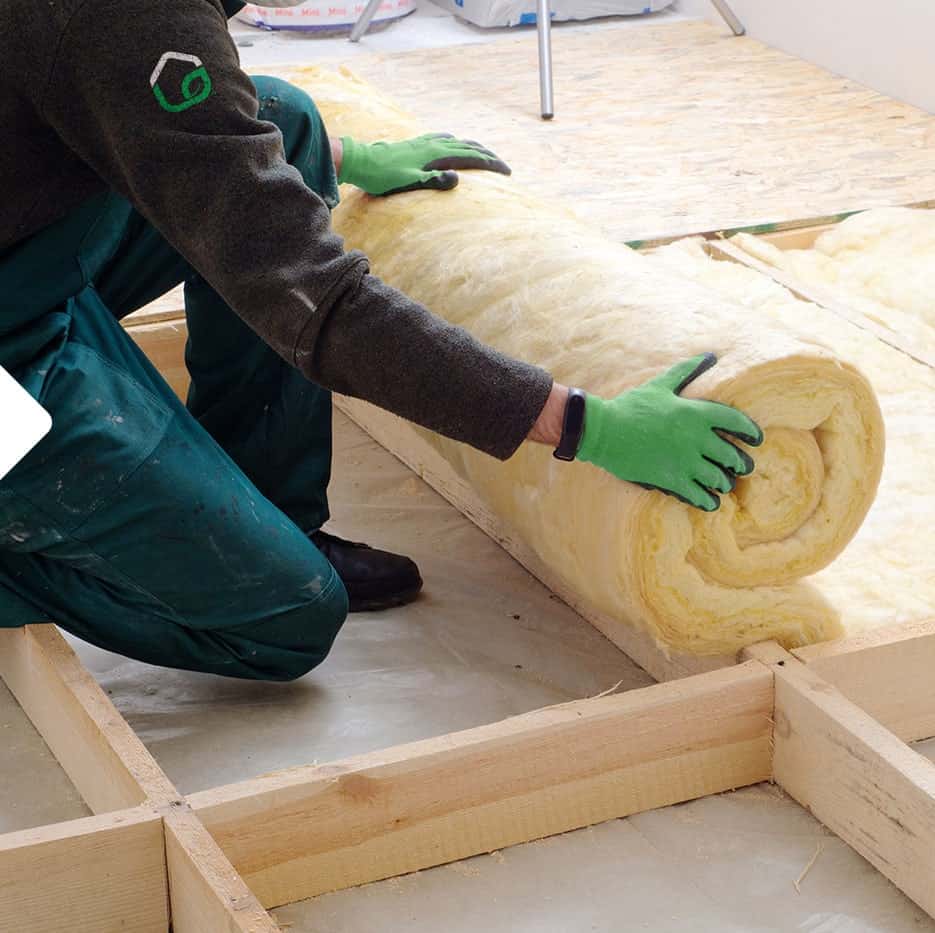 Basements and crawl spaces are an often overlooked, yet key component to your home's envelope. The band joist is a particularly vulnerable area to air penetration. Even if you don't spend much time in your basement, air flowing easily through the rim joist will create unusually cold temperatures in the floors above. Insulating your rim joist with spray foam will provide a one-two punch of air sealing and insulation. You'll keep cold air and unwelcomed critters and pests out.

Basement Insulation Advantages
N  Temperature and humidity becomes more stable to use as extra living space and storage
N  Significantly reduce the chance of mold and mildew
N  Prevent air leakage from outdoors into the home
N  Noticeable comfort difference on the floors above
N  Lower cooling and heating costs
Conditioned Space & Air Sealing
The conditioned space, also referred to as the living area, is the finished space of the home. The living area is where comfort issues are most noticeable but typically not where the root causes are located. Areas such as windows, doors, exterior walls, baseboards, and more are where air leaks occur. Using thermal imaging and various other inspection techniques, we're able to identify areas of concern and provide insight into why as well as other contributing factors.
Design Advantages
N Have a low environmental impact
N Lower your heating and cooling costs
N Improve your indoor air quality
N Increase your home's year-round comfort
N Reduce noise by acting as a sound dampener
Greenlink Provides Insulation Services
for Your Unique Home
Not sure where to start? Fill out our contact form, give us a call, or email and we will evaluate your home and recommend the best services, top quality material, and prioritize which areas to take care of first for peak performance. When these improvements are done right the first time by our certified experts and technicians, the project is a one-time improvement that requires no continued maintenance or up-keep.
If you want to make your home more comfortable and energy-efficient, contact us today to learn more about what options, types of material, and what we can use for your home.