Crawl Space Insulation Services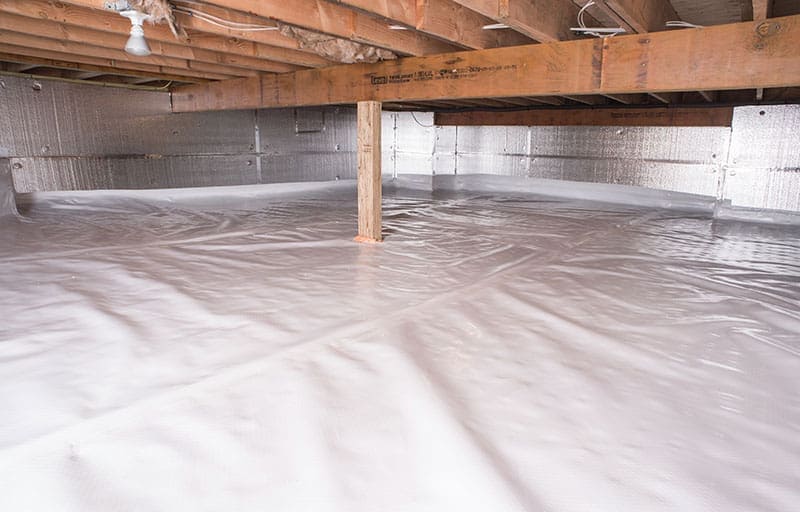 Make your home more comfortable and less expensive to heat and cool with crawl space insulation
Most homeowners tend to avoid the crawl space, and they are often unaware of the problems that may be occurring in there. Untreated and unmaintained crawl spaces can be a major problem in the building envelope. They're more susceptible to moisture, deterioration, and naturally become damp. Damp environments are unhealthy, harboring mold, and create an ideal living area for pets. If your crawl space is not insulated, contact the pros at Greenlink Energy Solutions today to receive a quote for crawl space insulation service near Rockford, Illinois.
Your crawl space affects the interior of your home. The living space of your home can be infiltrated with mold, earth gases, rodents and other allergens if your crawl space is not properly sealed. As much as 40 percent of the air you breathe while in your home is coming from your crawlspace. Most crawl spaces are home to furnaces, ductwork, gas lines, water pipes, etc.; these areas need to be protected and insulated to increase efficiency, life span, and allow for a healthy comfortable home.
Our 360° building science approach includes insulating crawl spaces to create a clean, efficient space that will make your home more comfortable. If you have issues with cold floors above the crawl space or rising energy costs, contact your local crawl space experts today for a free consultation and estimate!
Common Symptoms of a Poorly Maintained Crawl Space
If you've noticed or seen any of the following, you most likely have inadequate levels of crawl space insulation:
Frozen pipes in the wintertime

Cold floors above the crawl space or uncomfortable rooms in the house

Brown, white, and black discoloration on wood—a possible symptom of mold and mildew growth

Water infiltration or constant seepage through foundation walls

High heating and cooling bills
The Greenlink Crawl Space Insulation Process
Preparation

–

We never want to damage property or leave a mess behind. We set up plastic sheeting from the ceiling to the floor, over furniture, and any other belongings in the surrounding work area. We then seal everything down to ensure the work area is air tight.

Clean and Sanitize

–

We'll remove existing materials and use HEPA filtered vacuums for any debris. We'll remove the stains from and neutralize any areas showing symptoms of mold & mildew or remnants from pests. We then apply an inhibitor to discourage any future growth.

Encapsulate

– We'll install 12 millimeter thick sheeting over the floor and exterior walls to prevent gas and moisture from entering.

Insulate and Seal – Once everything is cleaned, sanitized, and encapsulated, we begin insulating around the exterior walls, rim joist, and if requested—the ceiling!

Do you have a damp, leaky, or problem causing crawl space? Don't let it continue to get in the way of your comfort and health. Contact the certified experts at Greenlink Energy Solutions for a free site inspection, evaluation, and consultant. Call today for your free crawl space insulation service estimate!