Utilizing building science to optimize your home's performance
Your Local Mechanical Systems Contractor
Health, Comfort, & Efficiency
Under One Roof
We take pride in our 360° whole-home approach for mechanical systems. We ensure existing components such as the furnace or air conditioner are working properly, ductwork and air are flowing efficiently and that all ventilation systems are operating correctly. By upgrading and installing new systems, you can save hundreds of dollars each year on utility bills and even more over the lifespan of the system. You'll also significantly improve air quality, meaning a reduced amount of pollutants in the air, leading to a home at maximum efficiency and performance.
MECHANICAL SERVICES

TO IMPROVE YOUR HOME
Design and Consultation
Our trained HVAC engineers will evaluate the layout and design of your home to design a plan that emphasizes maximum performance and efficiency; this means no area goes unnoticed and every aspect of the system is taken into consideration. We'll evaluate your current heating and cooling systems to determine what type, size, and system is best for your home.There is more than just heating and cooling but purification as well. We're not just looking at the heating or cooling units but the system in its entirety: the unit, the ductwork throughout the home, size of the home, volume of the rooms, and more. Our goal is to implement a system that places your home in the top percent of performing homes in the area.
Heating & Cooling
Heating and cooling systems are the largest single consumers of energy in buildings. These systems condition the air within a building so that occupants are comfortable. Heating and cooling systems consist mainly of chillers, boilers, cooling towers, and pumps. There are central heating and cooling systems, and unitary systems that combine heating and cooling. Opportunities exist for improvement to both central and unitary systems.
Measure your heating and cooling loads.

Correctly size your heating and cooling systems.

Replace your chillers with new, more energy-efficient, non-chlorofluorocarbon (CFC) models.

Upgrade your heating and cooling system components.

Install variable-speed drives (VSDs) on your pumps and cooling tower fans.

Optimize operation of your heating and cooling systems.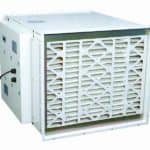 Purification & Filtration Systems
We install purification and filtration systems to ensure the air you breathe is clean and healthy.
ERV Ventilation Systems
ERVs, or Energy Recovery Ventilators, are systems that draw clean, fresh air into your house and remove stale air. They also capture contaminants, pollutants, allergens, pllen, and more, ensuring any air that enters is clean and healthy.
Bathroom Ventilation
Without a bath fan, or an insufficient one, humidity in the air builds up from showers and causes mold, mildew, and more. Upgrade or install a high-efficiency rated bath fan to properly ventilate your bathroom.
Kitchen Range
No one likes grease, soot, and smoke damage in their kitchen. It also spreads throughout the home. Get a vent above your stove that goes outside instead of recycling polluted air.
Greenlink Provides Mechanical Services
for Your Unique Home
Not sure where to start? Fill out our contact form, give us a call, or email and we will evaluate your home and recommend the systems, solutions, and prioritize areas that provide the best results and solve your problems. When these improvements are done right the first time by certified experts and technicians such as us, the project is a one-time improvement with standard recommended yearly maintenance.
If you want to make your home more comfortable and energy-efficient, contact an expert at Greenlink to learn more about furnace and air conditioner upgrades, filtration systems, fresh air intakes, and more.